I've been looking at some horror computer games recently (because our computer can finally run games decently) and was coming up with a list of some to get, building my new collection as I go. And I just decided I will share some of my finds with you. In this topic I will post a list and keep it updated as I go. The lists will be, in my opinion, ordered from less frightening at the top to "be prepared to change your pants" at the bottom (these will be the ones with the most jump scares). So here is my current list.
The Theater
The Theater is a one man horror game in which the plot puts you in a small corridor. Along the red walls are pixelated pictures. Towards the back of the corridor is a pixelated man known as the "Ticket Taker." As you approach this man, you hear a distorted voice, "thank you. Please enjoy the movie." When you walk into the dark, smaller corridor, the screen fades to black. It fades back in and you find yourself... back in the larger corridor? This is an endless cycle. Or is it?
NOTE:
This game doesn't get too loud, but do turn your volume down a bit to avoid damaging your keyboard/mouse.
----------------------------------------------------------
The Theater 2013
This is a newer looking version of the one above. Considering it was made in one day, the atmosphere is great. And this one takes less time to complete. It too doesn't get too loud. You start out in a small dark corridor; you can't see the walls. As you enter the first "room", you notice the distorted look of the graphics. There is no ticket taker; the posters are legible. You can hear the crackling sound throughout the game that sounds like movie film. I'll let you find out the rest yourself.
----------------------------------------------------------
Pizza Delivery version 0.2
It is late at night and you are on your last delivery. In front of you is the house. All you have to do is walk to the door and deliver the pizza, yes? Right.... right? When you get to the door, the owner lets you in so she can go get the money to pay you (which is upstairs). Shortly after getting in, there is a power outage. The situation get progressively worse over time. This game features a few jump scares, but can be beaten in about twenty minutes.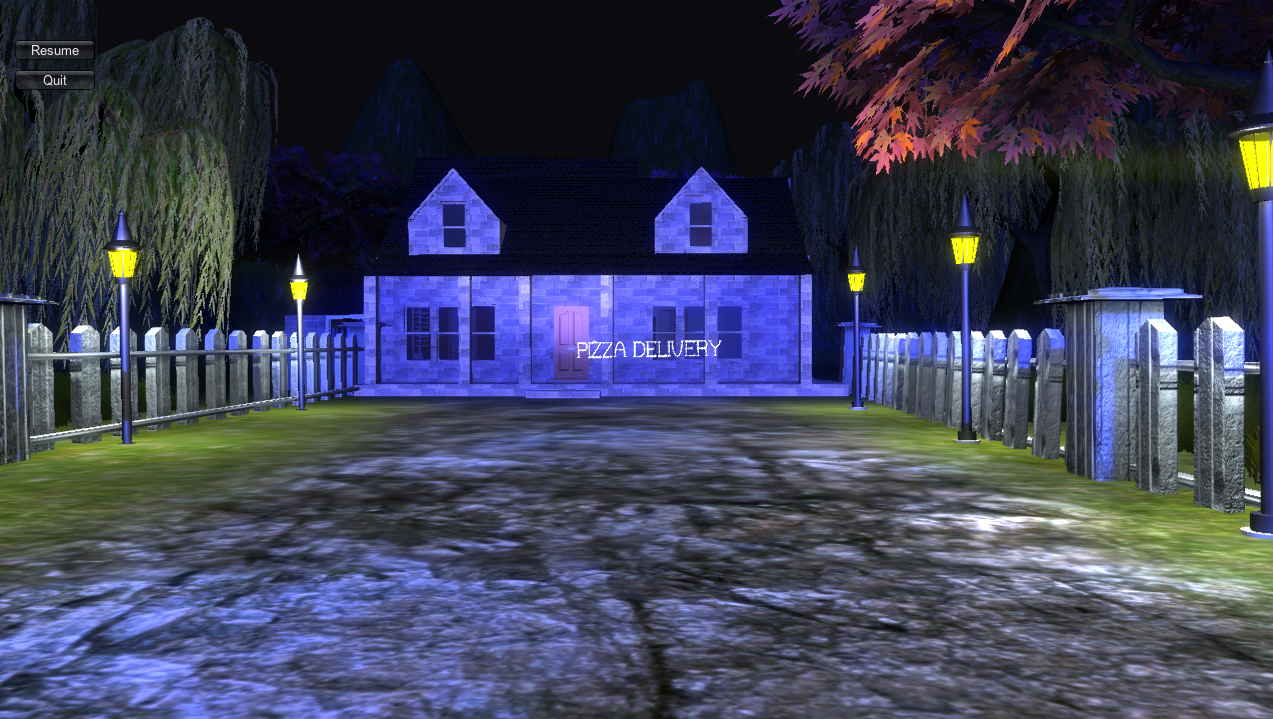 ----------------------------------------------------------
Barrels - The Game
I don't feel like digging out the download link for that one. This game is based on "Slenderman" (see next). This game was created for PewDiePie on YouTube who is famous for his Slenderman, Amnesia, and Happy Wheels videos. In this game, you are to rescue members of the "Bro Army" while avoiding contact with the Barrels. When you encounter a Barrel, activate Chair Mode to avoid losing. The controls are very basic too. I listed this because the Barrels can spawn randomly, setting you up with some good jump scares. *spoiler alert* The end of the game also has two (or was it three) jump scares.
----------------------------------------------------------
Slenderman: The Eight Pages
In this game, you are placed in the deep woods on a moonless night. To win the game, all you have to do is collect eight pages scattered about. Seems easy, yes? Well, no, not really. As soon as you collect your first page, Slendy (Slenderman) comes looking for you. Do not look him in the face too long, or you will be captured. Also, the closer you are to him, the faster it is to be captured. He can spawn anywhere - even right behind you. You have limited sprint (perhaps too limited) and your flashlight can die. Turning off your flashlight will preserve battery life, but you become easier to catch.
----------------------------------------------------------
ColdFusion
A secret sector of government has been working undercover on a new energy project, Gemini, using an abandon listening post based far out in the barren, frigid Alaskan wilderness. The program has been making quick and steady progress, but recently, all communications have been cut off. You have been chosen to investigate the post and figure out why contact with the scientists working there has suddenly stopped. Good luck.
Enough said.
NOTE:
This game has scare jumps everywhere, starting when you enter the door. Be aware that it is possible to both get locked in the building (at the end) and get locked out (at the beginning).
----------------------------------------------------------
And last on our list:
Erie
This wonderful game has fewer jump scares than the others (it's also the only one so far that has to be installed). You are investigating an incident at a power plant where a meltdown happened. The year is 1966 (though I have found barrels with a 2013(?) date) and the place is lake Erie, Michigan (according the that barrel). Get in, do your investigation, find any survivors, get out. Use spray paint to mark where you've been, and interact with objects lying around.
That's it for my current list. I hope to add more soon. If you have any you'd like to share, do it.